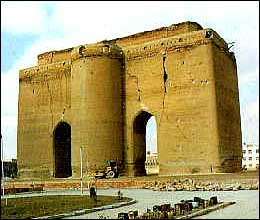 While most people think of Iran as Persian, in fact Iran like most former empires is a cobbled together collection of conquered territories and peoples. The currently disputed city of Tabriz in South Azerbaijan is a case in point.
Iran has sizable Sunni, Bahai and Zoroastrian religious minorities who are perennially oppressed by the ruling Shiite theocracy. (A smaller Jewish minority is all that remains of Iran's once large Jewish population much of which has now escaped that brutal tyranny for Israel and America)
It also has several ethnic minorities including the Azeri, the Kurds, the Mazandarani and Baloch. Of these the Azeri are the largest comprising 25 percent of Iran or 30 million people. While the Persians comprise only a slim majority of the country, Persian linguistic and cultural domination is absolute backed by all the power of the totalitarian force of the Iranian Islamic Republic.
As the Iranian government channels the country's resources to building infrastructure, factories, and development projects in Persian populated cities such as Isfahan, Shirza, Yazd, and Kerman,the non-Persian regions of Kurdistan, Baluchistan, Azerbaijan, and other areas plunge further into poverty and deprivation.
Any sign of Kurdish or Azeri nationalism have been routinely suppressed by a Persian ruling majority which believes in the superiority of the Persian race and any historical or anthropological research that challenges this myth cannot be legally printed. Because Iran does not merely rest on Islamic fundamentalism but is fused with a Persian nationalism fired by the belief in Persian superiority to rule over others.
Not satisfied with exerting domestic censorship, the Iranian government has reacted violently to any usage that violates their sense of racial superiority. When the National Geographic printed an article using the term Arabian Gulf, a protest campaign and google bombings emerged from Iran to emphasize the name Persian Gulf instead.
Now the Mad Mullahs had it brought to their attention that a video on Google Video set in the Azerbaijani city of Tabriz, under Iranian occupation, actually described it as Azerbaijani rather than Iranian. Instantly the Iranian government directed enraged protests at Google demanding that the video description be rewritten even though it was a user's description, and Google bombings are quickly following. The Guardian wrote a piece plainly sympathetic to the Iranian government's position and ignorant of the basic fact that it was a user video on Google Video describing Tabriz as being in South Azerbaijan rather than Google Inc describing it that way.
The Iranian regime believes it has the right to censor all information anywhere and feels that it can intimidate Google into covering up its occupation of South Azerbaijan and to transforming Tabriz, an Azeri city into an Iranian one. Google will likely not comply with demands to remove the video but it will also sit passively by while Iran google bombs search engines so that any references to Tabriz wind up pointing to Iran.
The deeper darker part of all this is that Iran is not satisfied with just its occupation of South Azerbaijan but views the independent country of Azerbaijan as being its property too. Phony calls are being repeated for a 'unification' of Azerbaijan with Iran, much like the 'unification' of Germany and Poland. Not satisfied with oppressing its existing Azeri minority, Iran is driven to eliminate even their independent country and the Guardian is happy to play along.